Welcome to Empathyce, the empathetic Customer Experience consultancy. 
Create a more customer-centric culture with people-focused operations. It makes employees really proud to deliver your customers' experiences and when they do, customers repay you with their profitable loyalty and advocacy!
Customer Experience & Passenger Experience
Consultancy services and professional development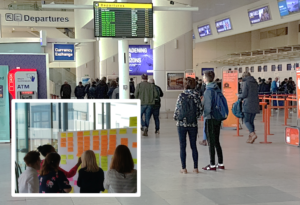 Being the one who is charged with embedding a more customer-centric culture isn't easy. It takes bags of resilience and a whole heap of perseverance especially when it comes to demonstrating the value of CX to others.
But, the rewards in personal pride and commercial success are worth it. So if I can help set the vision, give structure and momentum to your planning and secure buy-in from the most sceptical of stakeholders, do get it touch. Here are some of the ways I could support you:
Customer Experience Programme Management
Organise the building blocks that help you earn the right to people's loyalty and advocacy
CX Culture & Strategy  | CX Maturity Assessments  |  Journey Mapping  |  Action planning   |   Voice of the Customer & Employee   |   Measurement   |   Cross-functional CX support    |   Employee Experience     |    Employee Engagement    |    Organisational design
"Genuine expertise, empathetically imparted by someone like Jerry, should automatically be part of the way we do business"
Paul Gilbert, Chief Executive, LBC WiseCounsel
Customer Experience Interim Management
Hands-on support that gives clarity to the thinking and gets on with the doing
Thanks Jerry, it's both helpful and reassuring to have input from such an experienced CX professional
TF, UK utility company
Customer Experience and Accessibility
Improving experiences for people with physical and/or hidden disabilities
Audits and Assessments    |   Empathy training for front-line teams    |   Empathetic and insightful Journey Mapping   |   Stakeholder engagement
I am a member of the Accessibility Advisory Group for London Heathrow Airport and have a son with a profound learning disability.
"Of course it's the right thing to do but get it right and we get it right for everyone; that brings a significant commercial benefit too"
Andy Wright, CEO Accessible Travel
Customer Experience Professional Development
Workshops and coaching for leaders, CX practitioners and their teams
The leadership team's role    |  How to map customer journeys  |  CCXP Exam Preparation    |   CX Competencies for CX professionals    |    CX Immersion for all employees
"This course should be mandatory for any company with customers"
Mary Doyle, Rocket Girl Coaching
Jerry has been fantastic to work along side providing great insight, expertise and guidance with a considered and kind approach. He hasn't shied away from challenging us or let the frustrations of 'CX in reality' distract him from supporting our project deliverables. He has provided real value and left a well placed team ready to pick up the CX mantle following his coaching and guidance.
Kate Birtles, Customer Service Director, Biffa