Customer Experience Training & Professional Development
If you're looking for a starting point or how to take your customer focus to the next level, we've a programme for you.
The training outlined below is tailored to you and your vision. For two people or 42, around the world or down the road we'll make it a hugely practical nudge in the right direction, not just the theory.
Sessions can be done onsite in person or remotely using video conferencing platforms – whichever is safest and most convenient for you.
Customer Experience and the Leadership Team
Workshops with Boards, the ExCo or senior management to help shift the mindset to be more customer-centric.
We create a common understanding of what Customer Experience is, why it's important and how it works. We look at what we can learn from companies in different sectors around the world and the characteristics of successful, customer-led brands.
Actions speak louder than words so we tailor the session to your organisation, explore how to apply Customer Experience thinking and how to align it strategically with everything else you want to do.
Effective Customer Journey Mapping
If you do nothing else in the name of Customer Experience give customer journey mapping a go and see where it takes you.
This session can be based around one of your own customer journeys to make it is relevant as possible. We'll show you how to create meaningful personas, how to prepare, how to facilitate and then get the most value from your journey mapping.
The process of creating a visual representation of what it's like to be a customer is a powerful tool. Done effectively the benefits include cross-functional collaboration, rich insights that give the evidence for change and a library of stories to help bring it all to life.
Becoming a Certified Customer Experience Professional (CCXP) is a proud moment for any CX practitioner.
The accreditation from the Customer Experience Professionals Association is in two parts. Firstly, an assessment of your CX career across the six competencies of culture, strategy, insight, measurement, innovation and governance. The second step is an exam.
I'll understand how much hands-on experience you have and therefore how ready you are to make a formal application. If needed, I'll help create a development plan to find ways to fill any gaps, go through each of the competencies in turn, help prepare your application, try example questions and look at exam technique.
Customer Experience Competencies
Aside from the qualification itself, the six competencies at the heart of the CCXP accreditation serve CX professionals well in their day-job.
Taking each competency in turn we cover the principles, explore case studies and create plenty of food for thought in terms of your current role.
The competencies are based around 1) nurturing a Customer-Centric Culture, 2) designing a clear CX Strategy and Vision, 3) generating, understanding and acting on Customer Insight, 4) measurement and the Return on Investment, 5) designing, improving and innovating customers' experiences and 6) the governance holding it all together.
Customer Experience for All Employees
With a clear Customer Experience Strategy and Vision in place everyone, wherever they work, will know the role they can play in it.
Having that engagement, excitement and involvement is vital but getting to that point is not always easy. These sessions aim to reach all employees in the organisation to help embed a deeper culture of customer centricity. We explore the key differences between Customer Service and Customer Experience, we share examples of highly customer-focused organisations and they share good and bad experiences of their own.
We seek their views on how customers' experiences can be improved and what they would change to make their job better.
For more information call me on +44 (0) 7917 718 072 or send me an email – [email protected]
Your trainer Jerry Angrave is a Certified Customer Experience Professional. He has been one of the few trainers accredited by the CXPA.  He has a long background in the corporate world in senior CX and Marketing roles, more recently as a consultant and coach. Jerry has also been a judge at the UK Customer Experience Awards and European Customer Experience Awards focusing on individuals and teams.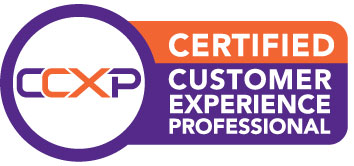 I heard the workshops went down really well.  You've had some great feedback.
Customer Experience Lead, Nationwide Building Society
There was a real buzz after the session. Amazing!
Customer Success Manager Lead, UK software enterprise company
That, Jerry, was a real Masterclass in customer experience. Thank you.
Steve Hughes, former CEO of a care home