CCXP Exam preparation and Customer Experience competencies
(The next event is being rescheduled to run remotely in light of the current virus situation)
This one-day event is all about the six core competencies needed to build and manage an effective Customer Experience programme. For those looking to gain an official qualification in Customer Experience, the course doubles-up as preparation for the official CCXP (Certified Customer Experience Professional) exam.
Ideally suited to those wanting to learn how to help their organisation get more from a focus on Customer Experience and/or be in the best position to take the CCXP exam, this workshop will cover:
Nurturing a Customer-Centric Culture by having the right corporate mindset and employee engagement
Writing and sharing a Customer Experience Strategy to give your organisation clear direction
Understanding customers by listening to them in the right way and acting on what they tell you
Measuring what's important and linking customer performance to the company's financial indicators
Applying creative methods like Design Thinking and ethnography to improve and innovate
Implementing robust governance to prioritise and assign ownership to activities.
For each competency we have case studies, tools, tips and templates you can take away and use immediately. We'll make it interactive so you can start applying the learnings to your own business there and then.
We'll look at the process to become a Certified Customer Experience Professional (CCXP) and have a go at a few example questions. I can then provide you with a mock-up of the CCXP application form where you make a note of your own experience in each of the six competencies. In the days and weeks after the workshop we'll stay in touch, assess your readiness for the exam and create a plan to fill any gaps before you make your formal application.
It's always a great day of learning, meeting people in similar roles and sharing what works and doesn't work with them. It's practical, it's enjoyable, it's a subject I'm passionate about and I'd love to see you there.
Customer Journey Mapping Workshops
(The next event is being rescheduled to a remote, virtual session in light of the current virus situation)
——-
If you're not sure what to do next in your Customer Experience programme, mapping your customer journeys is time well spent.
But, to be insightful and drive the right change, the process needs to be strategic, effective and influential.
And so these highly interactive workshops demonstrate how to set up journey mapping sessions, how to build the map itself, how to facilitate your own workshop on the day and how to get the most value from them afterwards.
We create personas and work through a live example so you have a familiar template to then map your own customers' journeys. We look at the differences between mapping today's journey and a future journey.
And crucially, because journey mapping is a means to an end, not the end-game itself, we understand how it fits into the bigger picture. After all that effort we don't want the maps to look good but simply gather dust!
Time and time again I've seen the positive impact that journey mapping has on a business. Being confident in what you're doing, you can take great pride in being the one to show your business how to do it!
If you're interested, click the link below to register an interest or drop me a note if you've any questions.
Your trainer Jerry Angrave is a Certified Customer Experience Professional. He has been one of the few trainers accredited by the CXPA.  He has a long background in the corporate world in senior CX and Marketing roles, more recently as a consultant and coach. Jerry has also been a judge at the UK Customer Experience Awards, chairing the CX Professional of the Year category.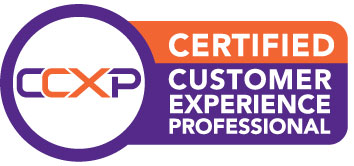 As soon as I have more information about the timings and platforms we'll use I will let you know. If you are interested please register an interest.
Many thanks.
I heard the workshops went down really well.  You've had some great feedback.
Customer Experience Lead, Nationwide Building Society
There was a real buzz after the session. Amazing!
Customer Success Manager Lead, UK software enterprise company
That, Jerry, was a real Masterclass in customer experience. Thank you.
Steve Hughes, former CEO of a care home