Customer Experience Case Studies #1
THE INTERNATIONAL AIRPORT (BASED IN THE UK)
Why they wanted things to be different
In searching for an alternative to competing directly on routes, prices and glamorous duty-free brands, this airport created a strategic goal to differentiate on the passenger experience.
What we did
Having understood their wider strategic context, their culture and ambitions, we created a programme of passenger journey mapping workshops. These would be done from the perspective of six of their key personas. In testimony to their commitment, they brought in colleagues from all parts of the airport estate – some were direct employees, others employees of commercial partners.
Alongside the journey mapping workshops we took the teams on a walk-through of their airport, role-playing the personas. We captured the vast number of observations and ideas, overlaying them with existing structured and unstructured passenger feedback and conversations we'd had with passengers in the terminal.
As a result…
The leadership team has the reassurance of a set of prioritised activities, based on what will resonate most with passengers, what will deliver their strategic brand promise and what can help generate additional non-aeronautical revenue in a customer-friendly way. They also have a team of engaged passenger experience champions who are helping to spread the word and to generate compelling stories about how this airport is different.
Customer Experience Case Studies #2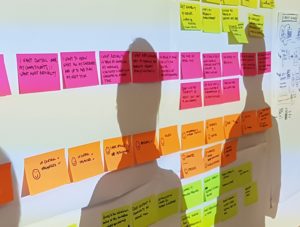 THE PHARMACEUTICAL COMPANY
Why they wanted things to be different
Income streams are under threat from a number of sources as patents for blockbuster drugs expire, healthcare professionals' own way of working changes and patients have more control in the buying process.  Without realising it, the focus on sales was pushing key customers and opinion leaders away, which had also created a lack of knowledge about who their customers are.  Working across multiple countries, products and brands made consistent messaging complex.
What we did
We built an accurate picture of the various customer types and what it was like for them to do business. Customer and colleague interviews, onsite and in the field added real depth to the understanding.  This was supplemented by education sessions with leadership teams, input to their strategic planning processes and a series of customer experience "masterclasses".  Our primary client contact was very effective at identifying those people to bring onboard first who would 'get it' and want to make a real difference.
The difference it is making
Marketing, sales and operational teams are working together under a common understanding of what the customer experience needs to be.  In the corners of the business where customer experience is yet to gain traction, the momentum is now coming from within to change that.  Activity is being prioritised effectively and people are genuinely enthused that they have the tools and confidence to move away from being so reliant on selling and to create growth from having the right experiences.
---
Customer Experience Case Studies #3
THE REGIONAL AIRLINE
Why they wanted things to be different
Against aggressive and increasingly competitive pricing pressure, margins had been eroded to be wafer thin.  While enjoying a strong level of customer affinity, reducing load factors and rising third party costs were putting them in an unsustainable position.  They therefore sought to increase penetration of the business market and compete on service, not price.
What we did
To support the creation of a compelling proposition, the reality of being a business passenger was investigated. Not from the perspective of segmenting by job titles or size of company but by what business travellers value most.  The findings showed that those who shared experiences about the best airlines said it was about consistency and reliability, about clean aircraft and friendly staff, not cheap prices.  Those who'd had awful experiences most often cited the lack of information when things go wrong and suspiciously regular delays, not a lack of value for money.  It was a great sense-check to prevent wasted investment in so-called 'wow' experiences that weren't really valued.
The difference it is making
The airline was able to position itself with real empathy, grow its market share of business passengers and convert their leisure flights too.  At the same time, they cut down on processes the didn't need, overlaid improvements for leisure and cargo customers and began widening margins to secure its future.
---
Customer Experience Case Studies #4
THE SOFTWARE DEVELOPER
Why they wanted things to be different
This UK-based software company operates in a niche market and has enjoyed a lack of real competition in recent years. That is starting to change and with product functionality being replicated relatively easily the emphasis has to switch to service as a way of differentiating. Historically, they have been very process-led, task focused and product-centric and have evolved hugely complex,  inefficient  and what are turning out to be costly systems. Employees were incredibly proud of their past but had little sight of what the future held.  And, commercially, the dependency of the parent company for growth from this subsidiary is growing so the pressure to stabilise experiences and prepare for growth is imperative.
What we did
Against that background context, and triggered by research in support of a recent rebranding exercise, the leadership team moved from a state of unintended complacency to acknowledging an issue exists.   It was a decisive and step.
We ran workshops with stakeholders from all over the business to explain how customer experience thinking applies to them.  Together, we created current-state customer journeys that showed how complex their business was.  And we created the future customer journey based on what the business strategy needs it to be.  Overall, our team spent more than 100 hours with directors, colleagues, customers and stakeholders to explore what it was really like being a customer, why that was and what it should be like.
Some of our findings were, in their words, "spectactularly uncomfortable".  But, the roadmap we created for them sets out the priorities for removing unnecessary costs, for process simplification and for a customer experience blueprint that is now moving into a detailed delivery phase.
The difference it is making
There is clarity about what the customer-led priorities are, which is being shared across the whole business and parent company.
Colleagues at all levels are talking about customers in a relational sense, not transactional.
The roadmap showed a number of low-cost quick-win activities that increase customer engagement.
Customer experience is now a key pillar within the strategic planning process and our work has been cited as such. Communications about corporate strategy now include much more focus on customers.
Sceptical, highly analytical and long-serving colleagues have gone on their own journey, and continue to do so. They now encourage others to think about the consequence of what they do and feel empowered to challenge how they do it.
They are actively creating a new measurement framework to ensure customer feedback is listened to and acknowledged. Additionally, they are establishing process measures to ensure operations are aligned the business and customer strategies.
---
For more details on any of these case studies please contact me directly:
[email protected]    +44 (0) 7917 718 072