CCXP Exam Training
Having the official qualification of being a CCXP (a Certified Customer Experience Professional) is something to be hugely proud of.
Since 2014 I've been recognised as a CX coach, helping others prepare for the assessment and exam. We'll work towards getting you the 'badge' and will provide support in a way that deepens your practical understanding of customer experience too.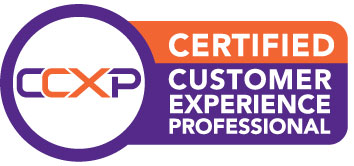 I've coached individuals who want to show how they can add more value to their organisation. And Customer Success teams who want the skills and confidence to help their clients improve their own customers' experiences.
Training can be onsite or done remotely by Skype. They can be done on a one-to-one basis or with teams. We'll go at a pace that suits you.
To have formal recognition of the job we love doing is hugely rewarding. And so the CXPA (Customer Experience Professionals' Association) created an accreditation to recognise the skills, knowledge and contribution of people in Customer Experience roles.
Marketing, HR, Programme Management and many other professions all have their official designations. Being a CCXP is every bit as credible, not least because it's not just an exam; you need to demonstrate at least 3-4 years practical experience in CX roles before you can sit the exam.
It shows others you know your way around customer experience as only those who've lived and breathed it for a few years can do. I'm seeing more companies insist that if you are joining their customer experience team, you must have, or be working towards, the formal CCXP recognition.
When applying to the CXPA to become a CCXP there are two steps:
Firstly – an assessment of the work you have done across each of five competencies (culture, strategy, insight, measurement and innovation)
Secondly – an exam, a three-hour, 100 question multiple choice paper
With the right training and coaching programme therefore, I help people – individually or teams – prepare for the accreditation process. Depending on how you want things to be different as a result, the framework we'd use is something like this table below. The video then explains a bit more about the CCXP exam process itself.
1 Context

We look at the CCXP process, your career path and what you want from the programme
2 Self-assess

You record what you have done across each of the six core competencies
3 Review

We decide whether you are ready to apply to become a CCXP or where there might be gaps
4 Learning

We focus on development areas using a mix of theory and practice, case studies and tools
5 Assessment preparation

Draft your application ensuring you have the right experience and you don't undersell yourself
6 Exam preparation

Support for taking the exam, which may be a simulator, sample questions or preferred techniques
Jerry, just wanted to drop you a note to say thank you so much for all your support and coaching – I couldn't have passed without you!!!
So if you – or anyone in your team – are thinking about becoming a CCXP, that's great news. I'd love to see if I can help.
Contact me, Jerry Angrave, directly:
call +44 (0) 7917 718072 or email [email protected]
There are more details about the CCXP accreditation at this link.
A quick note on transparency: I train people in CX roles and get them ready to submit the assessment and take the exam. That application and exam process is then purely between you and the CXPA. I have no financial interest in whether you take the exam or not. I became a coach because I passionately believe in what a focus on Customer Experience can do for individuals and companies.