Depending on your definition of a customer, their experience starts well before they actually buy anything.
It might be what they've heard from others or what they've seen in the news. But if the brand comes knocking on their door that first impression is also a critical experience. Many get it right because it's based on a real empathy with those they are trying to engage with.
However, it's not always the case. Absent a clear customer experience strategy, what we think do as a business often looks very different when looked at from the customers' perspectives.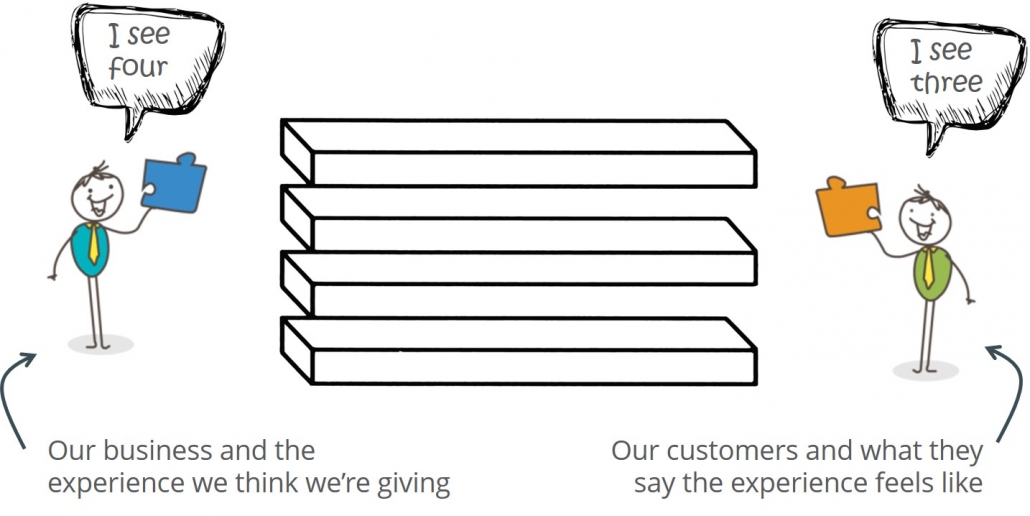 For example, if any CEO is wondering why their Sales teams are not getting better results, maybe a quick look at how their initial engagement makes yet-to-be customers feel will give some big clues.
The quotes below are all real examples I've had in my inbox just this last week. There are others and I'm sure you'll have your own 'favourites'.
They are not trying to sell me something I don't want. In fact, I could be interested. Just not with them. If I was ever asked for feedback about the Sales experience (a rare thing indeed), it might go along these lines:
Putting "Our 9am meeting" in the subject heading doesn't spur me into replying out of panic.  Sorry to burst your bubble Sales folk, but changing it to "Our 10am meeting" in the follow-up really doesn't make any difference either.
Saying "I've tried to reach you" is just lying – technology is quite good these days so I know if you've tried to get in touch as often as you claim. And when your colleagues use the same line every week, several times a week, it becomes very transparent.
Gasping "I can't believe you've not signed up yet" and "I'd hate for you to miss out" is at best patronising and lacks any sincerity.
What's more, should I be interested a reply to the email will go into a generic mailbox, not to the person who is (presumably) trying to create a relationship. It just shouts even louder about how you really don't care if I get back in touch or not.
Does somebody seriously believe this type of approach is going to create an experience I want to repeat, share and pay a premium for? If these companies had any genuine interest in what I do and how they might help me achieve success, they'd look at their Sales activity as a meaningful experience not a bullying, volume-led, can't-really-give-a-**** transaction.
I often come across businesses who fear the Sales team always over-promise because of the way they are rewarded. They then disappear off the face of the planet while everyone else tries to rally-round, clearing up the mess to deliver something close to an unrealistic promise.
On the flip-side, maybe the Sales team is frustrated that everyone else can't keep up. Maybe they're just doing what they've been told is best. But to create a first impression experience that is confrontational, misleading and deceitful creates no trust, no relationship. No commission.
They say the experience on the outside reflects the culture inside and they're right. In the middle of a busy day, to be on the receiving end of these type of messages says heaps about what it must be like to work there. No clear strategy, just a numbers game where some very talented people will be wilting under the stress.
Intended or not, what they are saying to me is that it's clear their focus is just on revenue, not on me as a potential customer. They don't care if I buy or not, there are plenty more fishes in the sea. Friend and colleague Ian Golding wrote about a similar mindset very recently in this blog.
These companies are not some anonymous outfit in a far-off land that's acquired an email list; often they are large, global businesses who should know what they are doing. These companies will make some money for sure but that short-term approach breeds complacency and stores up problems for down the line.
If they applied a dose of customer experience thinking they could, however, make a whole lot more money. If only they didn't push their potential customers away before they've even got close.
~~~~~~~
Thank you for reading the blog, I hope you enjoyed it and found it thought-provoking.  
I'm Jerry Angrave and I help people in Customer Experience roles do what they need to do. I'm a CCXP (Certified Customer Experience Professional), a CX consultant and am one of a handful of people globally who are authorised by the CXPA to train CX professionals for its accreditation.
Do get in touch if you've any comments on the blog, any questions or are interested in training or consultancy support.
Thank you,
Jerry 
https://empathyce.com/wp-content/uploads/2014/08/logo.gif
0
0
Jerry
https://empathyce.com/wp-content/uploads/2014/08/logo.gif
Jerry
2018-06-29 14:54:33
2018-06-29 16:32:05
When the sales experience falls into, rather than bridges, the gap