People in Customer Experience roles are an energetic, passionate bunch. They are also resilient and have bags of perseverance.
Nonetheless, as lockdown restrictions persist I've heard from a couple of Customer Experience teams who are feeling a little lost right now. While grateful to still have a job, they were asking what practical things they could be doing to keep a sense of moving forward when many elements of their usual role were not possible.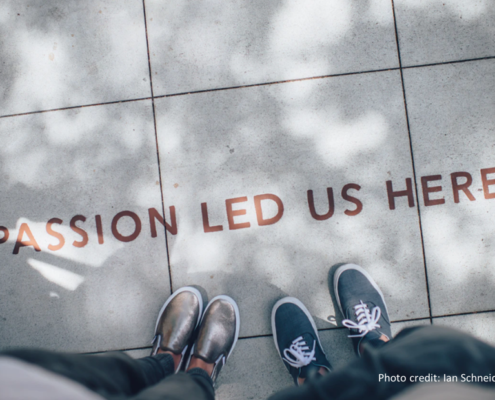 Of course the wider context is indeed that friends and colleagues have been laid off, furloughed again or have had to find other roles and new careers. It may, understandably, be the least of your or their priorities right now. Our collective health and well-being is what matters.
But, if you are in a Customer Experience role and your thoughts turn to making the best of a bad situation, I hope these suggestions may help a little. They are based on my own experience and on what I hear others are doing. Please add your thoughts to the LinkedIn post on what else you are focusing on.
Employee experience
There are still tough times all round at the moment. If you haven't lost your own job, chances are you know someone who has. Sparks of positivity can easily get smothered in a blanket of uncertainty. So more than ever before we must still look out for each other. A quick call, an email or text just to check-in and ask "You ok?" goes a long way.
There's a large amount of resources on wellbeing at the CIPD website and here too from Lane 4.
Keep spirits up by sharing stories, reliving examples of brilliant (or funny) customer experiences that will give everyone a lift and a smile. It's easy for colleagues to think everything they do is routine, one cog in a big machine, that nothing exciting ever happens. But keep talking about what made / makes your organisation different and special. Be proud to "Show and Tell" about going that extra mile. Draw out the positives from the current situation such as better ways of working, more creativity and camaraderie.
Beyond that, keep engaging as best you can, ask your team and stakeholders what they need from you, how would they improve communications and what tools, focus or information do they need to deliver the right customer experiences?
Customer engagement (even when they're not able to be a customer)
There have been some great examples of engagement over the last year even when there might not be any customers at the door.
It's about providing some degree of value and as long as it's sincere can be fun, informative and educational.  Your Sales or Marketing team may be under severe pressure to wring out every last revenue opportunity; if that's the case at least get them to be very transparent and honest rather than a badly-disguised sales pitch. We'll all remember how we feel we were treated by companies in these times. The same goes for how our customers feel about us.
In the UK, we'll remember how we felt when we heard the National Trust was opening the doors to its parks and grounds for free in the very early days of the first lockdown. It was necessarily short-lived but it was a hugely well-intended gesture. We appreciate airports, supermarkets and retailers giving us a behind-the-scenes look at their business and running competitions to keep us engaged. They told us what they're doing and how we could help them help us. We doff our hat to people like Joe Wicks who gave us exercise classes every morning for free.
As they say, what goes around come around and so when we are able to, we'll support those who showed they were on our side.
But we'll also remember what we thought of those companies whose leadership teams treated their employees with contempt, dragged their heels on giving refunds and tried to make a quick buck 'because they could'. Any customer engagement they tried was insincere and completely undermined by their actions elsewhere. Will we be as supportive when we have a choice about whether to give them our money again?
Review VoC and Metrics
Now is not the time for process audits disguised as customer surveys. It never has been. There are many positives to be coming out of this situation especially around humanity, kindness and creativity and if it helps rid us of pointless 'surveys' that's no bad thing either.
For most companies it's not really practical any more to ask "How satisfied are you with our payment process?" or "You'd recommend us, right?". Those are important but there are more fundamental worries, fears, hopes and expectations going on inside customers' heads right now.
We need to listen and listen-up well. How can you adapt your listening posts to ask customers what they need from you? How are you reviewing your understanding and reporting to drive meaningful actions? What worked a few years ago when it was set up may not work as well as it could now.
Does everyone, right around the business, know what customers are thinking, saying and doing – and why?
If you're not doing so already, lower customer volumes might mean there's an opportunity to close that loop; let customers know you've had their feedback and what you're doing about it.
Now might be the time to slim down your surveys in order to get more, and a better quality of, response. Do you make your customers wade through 15 questions about income, postcode and their favourite film, before asking them what the experience was like and why, just to satisfy a hunger for data?
How about setting up that customer panel you've always wanted?
When things settle down will you carry on measuring the same stuff because it's easy? Or, can you engineer a switch to measuring the things customers value the most and that are aligned to delivering on the strategy? Why measure advocacy rates to three decimal places when the strategic vision is, for example, all about making things more convenient and friendly? Why not plan to measure and report on how convenient and friendly customers found you? Is it a convenient time to shake off the obsession with the numbers and get the leadership team to focus instead on the qualitative drivers?
And it could be timely to revisit the persistent "What's the ROI of customer experience?" question. Engage the boffins in the Insight or Finance teams to calculate the correlation between better experiences, higher lifetime values and commercial performance indicators.
Personal development
Keeping match fit in terms of thinking and planning is essential right now. We need to hit the ground running when we come out of this and, perhaps, put ourselves in a prime position to secure a new role.
Look at what other companies are doing to stay engaged with their customers and learn from the good and the mistakes. There are plenty of resources, podcasts and discussion forums such as those from CXM Magazine, MyCustomer, Ian Golding, Jeanne Bliss and the CXPA to name but a few. And of course, CX competency coaching and for the CCXP exam is still available remotely if you're looking for a professional qualification.
As a CX professionals it is essential we have a commercial leaning in our conversations and actions. So snuggle up to your Financial or Commercial team to see what their challenges are, how the business makes its money and what language they use. Share a virtual cup of coffee with a Programme Manager to see how they set their priorities (and so how you might get the customers' perspectives into decision-making).
Spend time with the analysts to understand how they turn data into insight so you're better positioned to pre-empt questions you may get from the Board. And take time out with the Marketing heads to see what plans they have for the brand promise this year and how what they do relates to what you do.
Stakeholder management
In a similar vein to the personal development, get in touch with the leaders of your organisation, colleagues in other functions or external partners you've always meant to engage with but always had an excuse not to.
Understand their role and challenges. Help them understand the value of having a focus on Customer Experience. Invite them to be part of your workshops and updates and welcome them into gang of internal CX champions.  Get invited to their meetings to put your (the customer) perspective into their planning.
Nurturing those relationships now will pay dividends in the weeks and months to come when initiating the connections may be harder to do.
Journey Mapping
If you've not done any journey mapping before it's an insightful eye-opener and story-finder. It can still be done remotely and personally I use a combination of Zoom and MURAL.
It may lack the immersive nature of onsite workshops and ethnographic studies but the output will be better than doing nothing. It's a great way for people across the business and partners to come together and learn more about their own organisation. Make sure that once you've looked at things from a customer persona's perspective you validate it with real customers. You'll have plenty of ideas so also ensure you also a clarity of direction to prioritise what should be done next.
If you've already carried out journey mapping, now is maybe the time to move on from the 'end-to-end' journeys. Instead, look at those micro-journeys, key moments or other personas you never thought you'd get round to. Even a small group of three or four of you can be productive. For example, an airport might look at what it's like for a family with a disabled person to arrive at 3am in the pouring rain. Or, what happens when a wheelchair is lost? A housing association might review the experience of someone who needs a leaky roof repaired. Or a SaaS company may map the journey of its own Customer Success managers' first day on the job.
CX Maturity Assessment
This takes a real step back from the day-to-day business to contemplate your customer centricity. Seek views from colleagues and those you've not met yet in the far-flung corners of the business on whether they know what the CX vision is and whether they're clear about the role they can play. If there's not a CX vision then prepare one as part of the CX Strategy – no business sets out to do a bad job but is there clarity on exactly how good you want to be and how committed to that you are? What does that look like on a day-to-day basis? What will you always do and never do?
Is the brand promise to "put customers at the heart of everything we do" something employees believe in based on what they see and hear?
It's also worth reviewing your internal governance, the beating heart of your CX programme. Are the right people involved and does it have a strong mandate? Is it working effectively and cross-functionally in prioritising and assigning actions? Is it good at finding practical ways of sharing stories throughout the organisation and bringing it all to life internally? What leadership behaviours are present or absent in supporting the customer-led goals?
Future planning
We're clearly still on a bumpy ride and so it may seem a little challenging to plan for a future when we've no idea quite what it will look like.
Nonetheless, there are positive signs on the horizon and history teaches us that we will be back up and running at some point. When that time comes, we don't want to sit there looking at our competitors with envy and wishing we'd thought of that, wishing we'd made better use of our time now.
So, if we can, make time in the diary to think what we can do in future that is right for us and our customers. How can we act and behave, change and innovate in a way that means our competitors will be looking to us with envy instead? How can we be different and/or better at what we already do for our customers? How have our customers needs and expectations changed?
Apply some Design Thinking principles to solve your customers' problems. Get creative, get innovative and don't put any barriers in your way. The checks and "How the heck will we do that?" can come later.
The commercial reality is that the companies who stand the best chance of survival are not just the ones who are financially, strategically and operationally well-managed. They empathise with how they fit into their customers' lives and give customers no reason to go anywhere else.
There is no shortage of evidence to show the positive, commercial impact of better customer experiences. So having an absolute clarity of direction and commitment to strengthen the customer experience will help protect the business in the near future and beyond.
Sadly, last year we lost Tony Hsieh but the Zappos mindset lives on. It is every bit as important now as it has every been:  "We're in the people business, we just happen to sell shoes". It's a mindset that many more organisations would do well to adopt in times to come.
It is not an exhaustive list but I hope it helps is some small way. Please add your thoughts about what else are you doing or plan to do between now and when things return to some kind of normality.
But as I said at the start, I'm very aware that many friends and colleagues are losing their jobs or changes at work mean much of this may be academic. My thoughts go out to you. We will get through it. I know that when we have to dig deep it's surprising how deep we can go. In the coming days and weeks there will be opportunities to regroup, reset and reboot.
The global community of CX professionals is fantastic at sharing and caring and it's great to know you are out there. In that spirit, if you simply want to have a chat about what you're going through or if I can be a sounding board for any questions around customer experience do let me know – message me on LinkedIn or email [email protected].
Jerry Angrave is Customer Experience Director at Empathyce, a CX consulting and coaching company. Jerry is a CCXP (Certified Customer Experience Professional) and author of The Journey Mapping Playbook published by De Gruyter in October 2020.
[email protected]   +44 (0)7917 718072
https://empathyce.com/wp-content/uploads/2014/08/logo.gif
0
0
Jerry
https://empathyce.com/wp-content/uploads/2014/08/logo.gif
Jerry
2020-04-01 16:10:15
2021-01-11 08:22:45
Is now an appropriate time to Spring-clean our Customer Experience programme?